National Register of Citizens (NRC) published its final list of genuine citizens in the state of Assam, excluding nearly two million people.
The leaving out 1.9 million people from the NRC means that these people could be  rendered stateless. In total 31.1 million people were included in the NRC.
"The entire process of NRC update has been meticulously carried out in an objective and transparent manner. Adequate opportunity of being heard has been given to all persons at every stage of the process. The entire process is conducted as per statutory provisions and due procedure followed at every stage," the statement said.
When the final draft list was published by the Registrar General of India in July more than four million people were excluded from the list.
The NRC is unique only to the state of Assam and was first prepared in 1951. It will include those whose names appear in the 1951 document and their descendants. The list will also include those who have been on India's electoral rolls up to March 24, 1971, or in any other document approved by the government.
The government carried out the mammoth exercise to detect and deport undocumented immigrants from Bangladesh.
The latest work of NRC list was monitored by the Supreme Court of India and started in 2015.
The northeast state of Assam has a total population of over 33 million people.
Since, the publication of list today the state has been put on high alert and additional security forces have been deployed in anticipation of any law and order situation. Some 60,000 policemen have been posted and the centre has sent 20,000 additional paramilitary forces. Any gathering of more than four people at several public places is banned
The government has assured that the those who will be left out from the final list will be given opportunity to prove their citizenship first in quasi-judicial courts – known as Foreign Tribunals (FT) – and subsequently in higher courts.
Assam Chief Minister Sarbananda Sonowal said that those who have been left out will not be treated as foreigners.
"These cases will be taken special care of. We will provide all the possible assistance. So, there is no need to panic. I would appeal to all the people to maintain peace and harmony," Sonowal said.
People will get 120 days to appeal, the government announced earlier this month. Up to 200 more FTs are being planned to be set up on top of the 100 already functional.
Citizens can follow the below procedure to find out if their names feature in the list or not.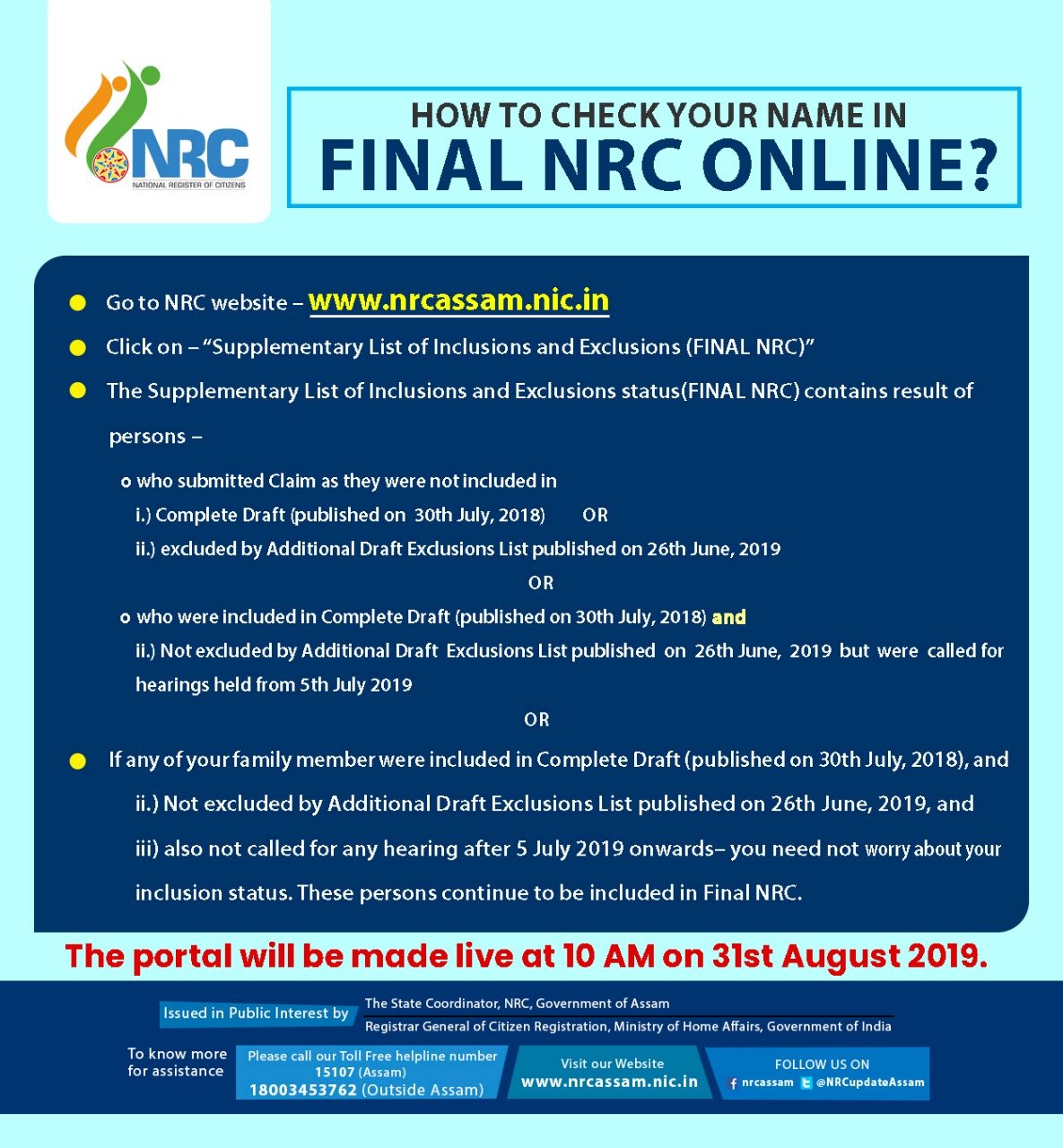 ---
Source : Various
---