Founder of popular chain Cafe Coffee Day (CCD), VG Siddhartha has gone missing from a bridge near Mangaluru in Karnataka. He was last seen on the bridge over the Netravati river in the coastal town on Monday evening. Siddhartha is also the son in law of former Karnataka Chief Minister SM Krishna.
In a police statement Siddhartha's driver Basavaraj Patil said they were going to Sakleshpur from Bangalore in a Toyota Innova when the businessman asked him to turn towards Mangalore.
As they approached a bridge near Mangalore, the businessman asked the driver to stop the car and got down from the vehicle. Siddhartha asked his driver to drive towards the other end of the bridge and wait there.
An hour later, the driver Basavaraj dialed Siddhartha only to find his phone switched off. Basavaraj later called Siddhartha's son who filed a police complaint.
Karnataka state BJP leader had told reporters that Siddhartha's father is unwell at a Mysore hospital. BJP parliamentarian from Karnataka, Shobha Karandlaje asked the centre to help to trace the missing businessman.
Karnataka Chief Minister BS Yediyurappa visited the Bengaluru home of BJP leader SM Krishna this morning. Top leaders DK Shivakumar and BL Shankar from Krishna's former party, the Congress, and Janata Dal (Secular) chief and former Prime Minister HD Deve Gowda also visited him. A large number of leaders and well-wishers have also gathered at his home.
Hours after Siddhartha went missing a letter reportedly written by the businessman to management and employees of the coffee chain surfaced. In the letter he expresses unhappiness over not creating "the right profitable business".
"I have failed to create the right profitable business model despite my best efforts… Every financial transaction is my responsibility… The law should hold me and only me accountable… My intention was never to cheat or mislead anybody, I have failed as an entrepreneur. This is my sincere submission, I hope someday you will understand, forgive and pardon me," the letter reads.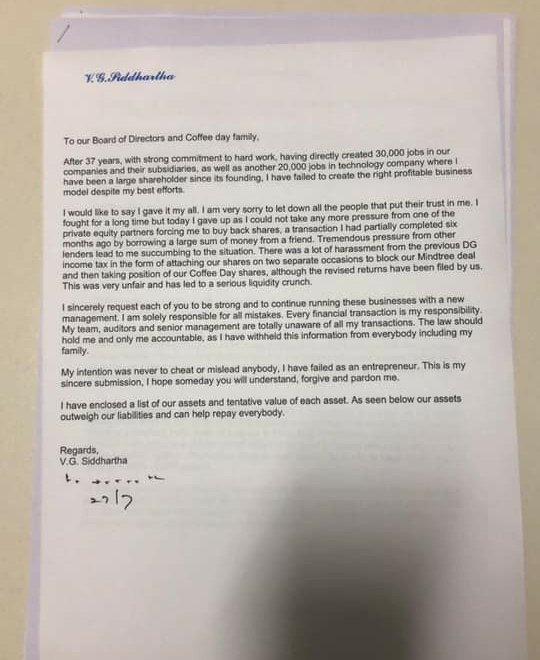 VG Siddhartha's offices were raided by income tax officers in September 2017. He is among the country's largest exporters of coffee bean. His family has been in the coffee-growing business for more than 140 years.
He sold his entire 20 percent equity stake in consultancy firm Mindtree to engineering and construction company Larsen & Toubro Ltd for INR₹ 3,300 crore in March this year. Reuters reported that he was in talks with Coca-Cola to sell his flagship chain, which he founded in 1993 and has over 1,500 outlets.
Meanwhile, the sniffer dogs that  pressed into service found strong scent of Siddhartha.
A total of eight teams are carrying out search operations in the Netravati river. Navy, NDRF and Coast Guard personnel have also joined the search operations.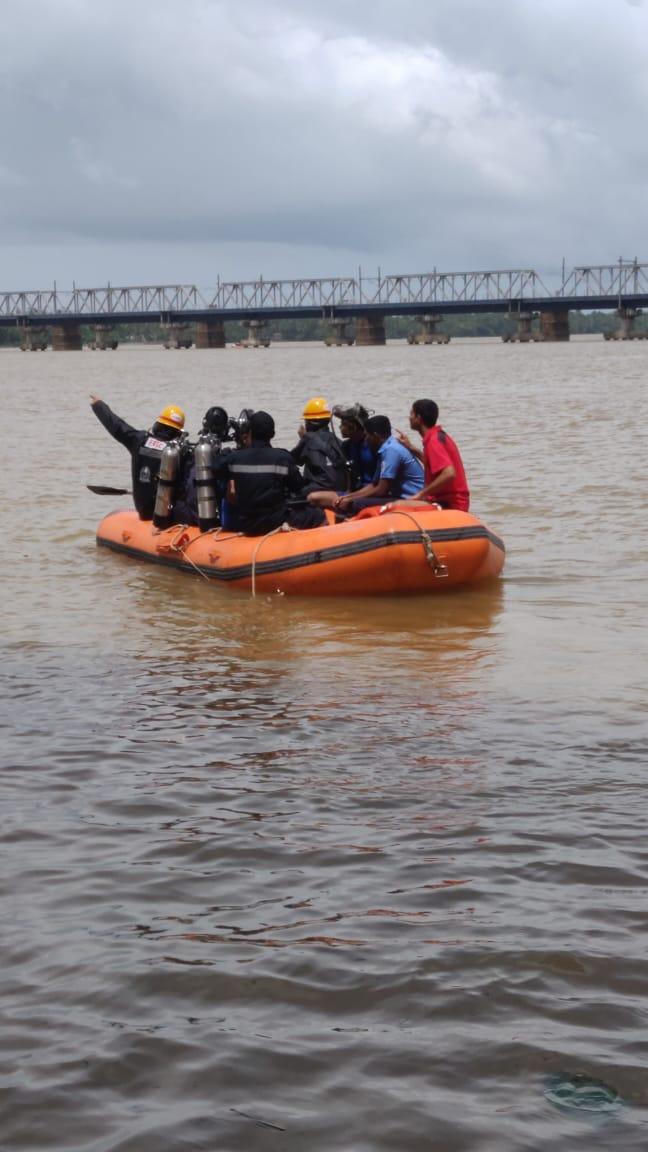 ---